It is 1925 and First World War air ace Bartholomew Bandy has finally found a secure post-war job, as commander of the Maharajah of Jhamjarh's new air force. The only problem is that the British Raj is not so happy with him for setting up a rival air power inside British India, and he may need to actually earn his fabulous salary when a neighbouring princely state shows signs of preparing for war...

This edition also includes an additional bonus: a comedy address delivered by Donald Jack in 1980 at an Ontario college, proposing a new educational system based on approximation...

Order Me so Far Online

...or order it from your local book shop!
E-book available from Kobo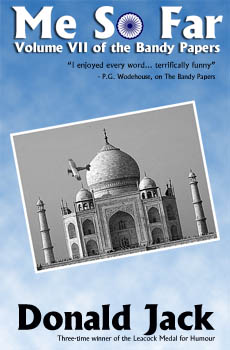 Trade paperback
September 2007
from Sybertooth
Paperback ISBN: 9780973950502
E-book ISBN: 9781927592045
"...as uproarious and subversive as the best of Tom Sharpe." -Kirkus Reviews

"...a memorable example of wit and adventure filtered through a fine moral screen..." -Books in Canada

"Jack's plotting is as exuberantly improbably as ever, his twin gifts for action and comedy on full display." -Quill & Quire