Camp - a thick black coffee syrup from Scotland with a groovy logo!

This stuff may look like bunker-C, but pour some over ice and top up your glass with milk and you have a tasty treat you just can't beat (not even with a chilled glass of Bovril).

Speaking of which, if you are beguiled by tar-like foodstuffs, you'll want to visit the Bovril Shrine, the award winning tribute to the determination of humanity to eat things God and Nature never intended.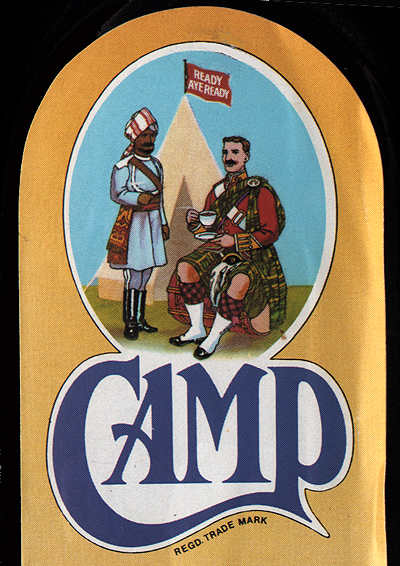 Mmmm! Camp
Another Tarry Goo You Eat!


Camp is a secret blend of:
Sugar
Water
Coffee
Chicory
and is, like revenge, best served cold.

Camp is made by:
McCormick Foods
East Lane
Paisley PA1 1QB
Scotland
web: http://www.mccormick.com/

If you can't find Camp at your local grocery, you can order it from Cooke's Fine Foods in Kingston Ontario. It's not listed on their website, but when I emailed they said they carried it.

Their toll free order number is 1-800-576-5866