European Book Tour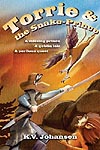 Feniks publishing house and the Makedonija Prezent Foundation of Skopje, Republic of Macedonia, will be presenting the International Anna Frank Award to K.V. Johansen at the 22nd International Book Fair in Skopje, which will be held from 13 to 18 April 2010. The award jury - Hristo Petreski (president), Aleksandar Prokopiev, Velko Nedelkovski, Tode Ilievski and Svetlana Ivanovska - selected the author of the book Torrie and the Snake-Prince, which was published in the Macedonian language as Тори и принцот-змија by Vermilion Books, translated from English by Marija Todorova.

K.V. Johansen is also to be a guest of the Skopje Book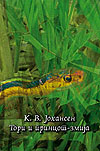 Fair, where she will attend the launch of the Macedonian translation of her children's novel, Torrie and the Snake-Prince. Johansen will also be taking part in a panel discussion on children's literature in Canada and Macedonia with Macedonian academic Vlada Ursevic as part of a Day of Canadian Culture organized in co-operation with the Canadian Embassy in Belgrade.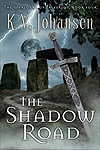 On her way to Macedonia, Johansen will be in Vienna, Austria, on April 9 and 10 for the launch of her latest book, The Shadow Road, at an event organized by the Canadian Embassy in Vienna. The first book in this series for teens, Nightwalker, was included in VOYA's Year's Best List 2007, was an Ontario Library Association Top Ten Best Bets book for 2007, and winner of the 2008 Ann Connor Brimer Award.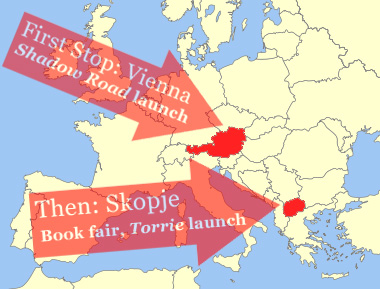 First Stop:
Vienna Austria for the launch of
The Shadow Road
on April 9, 2010.
Then, on to Skopje
, Republic of Macedonia, to the Skopje Book Fair for the launch of
Тори и принцот-змија
, the Anna Frank Award ceremony, a panel discussion on children's fantasy literature with Vlada Ursevic, and a discussion with a university English literature class.
We acknowledge the support of the Canada Council for the Arts which last year invested $20.1 million in writing and publishing throughout Canada. Nous remercions de son soutien le Conseil des Arts du Canada, qui a investi 20,1 millions de dollars l'an dernier dans les lettres et l'édition à travers le Canada.