Macedonia & Vienna Travel Log

Part Ten: Final Day of Literary Events

Today began with a visit to a Literary Theory class at the University American College Skopje. The class had read "The Inexorable Tide" from The Storyteller, and as this was their week to do Psychoanalytical Criticism, they had all written  essays on the story  looking at it from that perspective -- mostly Freudian with a bit of Jung. It was interesting to hear the story dissected in those terms, and amusing, but I liked best the essay of the young man who concluded by saying that a psychoanalytical approach told more about the person doing the criticism than the story.

From there, I went to a public library to read to several school classes from Torrie and the Snake-Prince. Th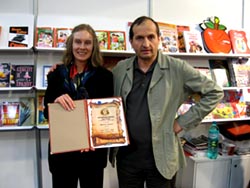 e students were already familiar with the book, as they had the Macedonian translation in their school libraries. Many of them came with questions about the book prepared, and many of those were in English. Their questions were very good, very thoughtful. Some wanted to ask about how I developed as a writer and asked for advice for their own writing. I think that as imaginative literature for children and teens continues to come into Macedonia, either in translation or written here, children will rediscover the world of books. The impulse is certainly there. One girl told me that Torrie and the Snake-Prince was her favourite book. That's always nice to hear!







Present at the reading was a Macedonian artist, Zivko Popovski-Cvetin, who, as a form of performance in promotion of peace, gives paintings of flowers to visiting notables, and I guess that category includes me. He painted a picture for the library while I was there.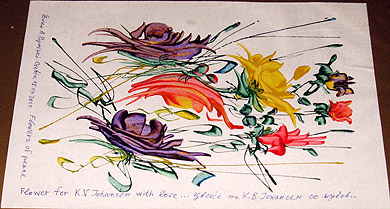 After that, it was back to the Skopje Book Fair and the Ana Frank Award Ceremony. The award was presented to me by the chairman of the jury, Hristo Petrevski. Afterwards, I went out for lunch with Hristo, poet Tode Ilievski, and my publishers. This was the first Ana Frank International Award for Children's Literature, and receiving it was a great honour.

And now, it's time to pack. My flight leaves at about 4:30 a.m. and thus far, it looks like the volcanic flight disruption isn't affecting the routes I'm on. I hope this remains the case.