Macedonia & Vienna Travel Log

Part Four: Vienna Charity Ball

The Hofburg and the Irish Charity Ball

Saturday afternoon found me wandering around the Hofburg area of Vienna. This was the main palace, the winter palace, of the Austro-Hungarian emperors, while Schönbrunn, where I was Saturday morning, was the summer retreat. There were quite a few carriages out,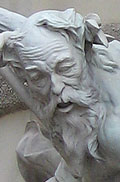 bowler-hatted drivers taking fares on tours of the heart of Imperial Vienna. Neoclassical buildings and sculpture enclose the whole area, putting mere human ants in their place. But, the emperors are gone, and tourists swarm over their monuments.
Saturday evening my hosts were attending an Irish charity ball, and invited me along. In my borrowed dress I felt a bit like some disguised outlaw, infiltrating high society in order to carry out some feat of swashbucklery. Actually, I was nervous the whole time that I would fall off my high heels or tread on some other woman's evening gown hem and cause a disaster, or at least an embarrassment. As it turned out, although it was black tie formal, it was much more informal than I expected. Everything was very relaxed, possibly in part because the music was an Irish folk group, The Raparees. We were dancing to "Brennan on the Moor" and "The Moonshiner", two songs I've known since I could speak. I like it when I can sing along (and when the music is loud enough no-one else can hear.) An Irish step-dancing group, Irish Fire, also performed.
I retreated at midnight, before I turned into a pumpkin. (And because I had a plane to catch in the morning.)