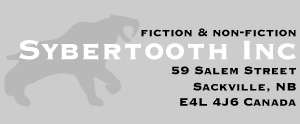 Sybertooth Inc is a publisher of fiction, non-fiction, poetry, and plays. If you should have any question about our publications, please click here to contact us.

Click here to return to the index page.

Translation Rights
Foreign publishers or agents interested in licencing any Sybertooth titles for translation are invited to contact us regarding translation rights at the address above. Please include details of your company, the title of interest, the language and country of translation, and anticipated print run.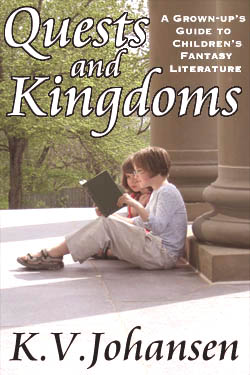 Nominated for the
2006 Harvey Darton Award
Quests and Kingdoms
A Grown-Up's Guide to
Children's Fantasy Literature
July 2005 • 459pp• ISBN 0968802443
ISBN-13: 9780968802441
$30 (US) • £20 (UK) • $36 (Can)


'....exceptionally well written and recommended for its relevance for teachers and or parents...'
- Midwest Book Review March 2006

'... this is not only a fine reference tool but a finely-written book...This is undoubtedly a seminal work guaranteed to stimulate discussion on children's literature...
- Books in Canada Jan/Feb 2006

"This is a book that does exactly what it says on the tin – and then more...Tolkien is seen as so pivotal in the development of the genre that he gets a thoughtful and well researched chapter all to himself...a helpful guide to content... Her book could be a real help to the adults seeking to guide [children] into this marvellous world." -Issue 196, Amon Hen (Bulletin of the Tolkien Society).
"In an engaging and highly readable style, Johansen's enthusiasm and knowledge for her subject captivates her reader... Quests and Kingdoms is an informed and informative work highly recommended for reader's advisory, teachers of language arts and fantasy collections." -CM Magazine (Volume XII Number 2, Sept 16 2005)
'What truly amazes, though, is Johansen's reliability and depth of knowledge...and her accuracy with facts...The sheer volume of knowledge on display here could earn Johansen honors for scholarship. This is a truly useful reference book...'
-Mythprint (Bulletin of the Mythopoeic Society) Nov. 2005.

'a lively, thoughtful read, and a useful reference volume'
- Terri Windling
Fantasy has become an increasingly popular genre of children's literature in recent years, but teachers, parents, or librarians who do not read much fantasy themselves can feel a bit overwhelmed when looking for something to recommend to a young reader who has finished the latest book by Rowling or Jacques. Quests and Kingdoms provides a basis from which an adult unfamiliar with the genre of children's fantasy literature may explore it. Quests is an historical survey for the interested general reader, which will be of great practical value to library and education professionals as well. Though the aim is to give adults concerned with bringing children (or teens) and books together a familiarity with the children's fantasy genre and its history, for those who already know and love the classics of children's fantasy Quests will be an introduction to works and authors they may have missed.
Taking a chronological approach, Quests begins with the fairy-tale collections of d'Aulnoy, Perrault, and the Grimms and works its way up to the novels of J.K. Rowling and Garth Nix, covering over three centuries of fantasy read by children. The lives of the authors are looked at and placed in historical context, while their works are introduced through both synopses and analysis. Quests also includes chapters on Tolkien, retellings of traditional stories, and King Arthur and Robin Hood. More than 500 works by 95 authors are discussed, and the thorough index makes the book a practical reference resource as well as a history and an introduction to the best in the genre.


Buy Quests & Kingdoms On-line

or through your local book shop
About the Author

K.V. Johansen has Master's Degrees in Medieval Studies (Toronto) and English (McMaster). The author of a number of children's books, she held the 2001 Eileen Wallace Research Fellowship in Children's Literature from the Eileen Wallace Collection at the University of New Brunswick. She also received the 2004 Frances E. Russell Award for research in children's literature from the Canadian section of IBBY, the International Board on Books for Young People. Her website can be found at www.pippin.ca
~~~
Distributed in North America by
Ingram, and Baker & Taylor,
and in Europe by
Gardners, Coutts, and Bertram
~~~