News!

October 2017: For the first time, there's now an audio book available of Three Cheers for Me!

January 2017: Kindle versions of the new Commonwealth editions of Three Cheers for Me, That's Me in the Middle, and It's Me Again have been published.

Bandy readers in the UK, Australia, and other Commonwealth countries (except for Canada) will notice that the books are becoming unavailable in September 2016 - fear not. They will be returning for sale in coming months.

The reason is that a deal has been reached with a British publisher in London (Prelude Books' Farrago imprint) to bring out new editions of the whole series, in e-book, print, and audio book versions. The e-books will begin appearing this fall, and the paperbacks in the spring of next year. There's no date yet for the audio books, but they will be available worldwide when they are released.

So, sorry for the hiatus in availability in some areas. Your patience will be rewarded with some great new editions of the Bandy books! We hope readers in the Commonwealth will support Prelude/Farrago Books' efforts to bring Bandy to new readers around the world.

For those in Canada, the USA, and countries outside the Commonwealth, you should notice no interruption in the availability of the current editions.

The first three volumes of the series are now available for Kindle...Three Cheers for Me, That's Me in the Middle, and It's Me Again.

We've completed publishing the entire Bandy Papers series in e-book format, with and Hitler vs Me and Stalin vs Me published Remembrance Day 2015. All nine volumes are now available as e-books, with Three Cheers for Me available in two different e-book versions: the original stand-alone version from 1962, and the expanded version that was the start of the nine book series.

Three Cheers for Me 50th Anniversary E-book
As a treat for the anniversary of the publication of the original Three Cheers for Me: The Journals of Bartholomew Bandy, R.F.C., we published an e-book of the stand-alone 1962 version which many Bandy fans will never have had a chance to read (as only 10,000 copies were ever printed, and it was later supplanted by the revised version that was re-written to serve as the first volume of a series). The e-book is available in ePub format from Kobo.

Recent e-books:
That's Me in the Middle, volume two of the Bandy Papers series.

The revised & expanded Three Cheers for Me that was first published in the 1970s as the start of the 9-book series. Available in ePub format from: Kobo.

Latest Reprints
Me Too has been re-released in trade paperback. All of the Bandy Papers series is now available in paperback format.

Cissie
Me Bandy, You Cissie is the latest volume that has been republished, in June 2009. Me Bandy, You Cissie is a winner of the Stephen Leacock award for humour, and the latest edition includes a bonus feature: Donald Jack's radio play Banner's Headline, published here for the first time.

Bandy Forum
The Bandy forum has new software with new features, including an RSS feed to keep you up to date



More Bandy Books back into print
July 2008: This One's on Me is back in print. Released on Bandy's birthday, July 14th.

The new edition of Me So Far now available! This edition, the first since 1989, also includes an additional bonus: a comedy address delivered by Donald Jack in 1980 at an Ontario college, proposing a new educational system based on approximation...

It's Me Again (volume three of the Bandy Papers) is now available in paperback. Additionally, a previously unpublished play by Donald Jack, entitled The Canvas Barricade, has just been published.




Airforce Magazine Article

"Bartholomew W. Bandy: From Pilot to General, and Back Again", an article about the Bandy series, and Donald Jack, was published in the Fall 2006 issue of Airforce magazine, Canada's foremost aviation and aerospace magazine. Check it out for more background on Bandy's creator, as well as the story of Stalin Versus Me, the Bandy book that almost didn't get published.



Hitler Versus Me
Good news! We've published a paperback edition of the 1996 Bandy novel Hitler Versus Me, which has only ever been released in hardcover. Copies of the hc had become difficult to obtain, and are very expensive on the used-book market, so this will be a chance for many Bandy fans to read Hitler Versus Me for the first time, and to meet that most alarming product of Bandy's long career: his son! Hitler Versus Me was published August 2006, and is now available.

Stalin Versus Me
As many of you may be aware, Donald Jack worked on a sequel to Hitler vs Me, which was to be entitled Stalin vs Me. Unfortunately, after his death in 2003, publication of most of the volumes in the Bandy Papers series was cancelled, and it looked as though Stalin vs Me, the final volume of the Bandy Papers, would never make it to print. After inquiring into the status of the manuscript we found that a complete draft of the book exists. Our offer to publish the manuscript was accepted by Mr Jack's literary estate, and now Stalin vs Me is currently available through retailers (see the Stalin page for a partial listing).

Discussion Forum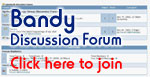 Want to chat about the Bandy Papers with other Donald Jack fans? Try our Bandy Forum. You can post your questions, thoughts, etc., and register for a password that gives you access to more functions like editing your posts and getting e-mail notification when someone replies to your posts.