Nightwalker
Book One of The Warlocks of Talverdin
A YA fantasy novel
by K.V. Johansen
ISBN 9781551434810
March 2007 224pp CA$9.95 US$8.95
Orca Book Publishers

Watch a video clip of the author reading from Nightwalker
Winner of the 2008

Ann Connor Brimer Award
Selected by
Voya
for their annual list of the
Year's Best Science Fiction, Fantasy, and Horror
-
VOYA
April 2007


Selected
by the Ontario Library Association for their
Best Bets
top ten list for 2007
Shortlisted for the 2008/09

Snow Willow Awards
My father was suddenly a very real person to me. He had stood, as I did now, watching the chancellor prepare the fire, watched the white flames snap and roar. And he had known what was to come. But his had been a much greater fire. They were only testing me. Only testing. And my mother was human. That had to count for something.
The flames steadied to a slow graceful wavering. They seemed to hum a single sweet note, just on the edge of hearing.
"Bring the boy forward," the chancellor ordered.
I clenched my teeth. Now, when there were people to see, I was not going to cry or scream. I would show them. I walked forward between the two guards, staring the chancellor straight in the eye.
The note the white flames sang changed. It grew harsh and hissing, and the flames began to leap wildly again, snapping and cracking as though they burned pitch-filled pinewood. They reached towards me as if driven by a strong wind.
I felt as though my skin were on fire. I knew I must plunge my hand into the bowl of white flames. I must, to prove to them that I was human. I took another step, and one more, but the very air burned. I could not breathe. I could not see. I could not feel the floor under my feet. Everything had become a hot roaring whiteness. Far, far away, I could hear Master Arvol shouting, "Behold! The Nightwalker cannot even approach the flame!"
Maurey has always been persecuted for the colour of his skin and eyes. He has never known more about his parents than that his mother died the day he was born. When the king's chancellor discovers that Maurey possesses a ring belonging to the missing queen and another that may be the key to finding the hidden kingdom of the inhuman warlocks of Talverdin, he is imprisoned, revealed as a Nightwalker, and sentenced to execution in philosopher's fire. Rescued by a young baroness with her own reasons for fearing the chancellor, Maurey sets out on a dangerous journey to the land of his father's people. If he and Annot are to survive and prevent the destruction of the last refuge of the Nightwalkers, Maurey will have to call on human and inhuman skills he never knew he possessed, and win the trust of both sides of his family.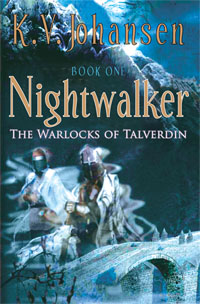 ~~ Review ~~
"the fast-paced adventure, compelling characters, and conflicts that make sense will reward readers of this fully realized fantasy, a promising start to the
Warlocks of Talverdin
series."
-Booklist
(American Library Association)
Order Nightwalker Online

or at your local book shop

Also available as an eBook



~~ Reviews ~~


"All I can say is WOW! I've read a fair amount of fantasy/paranormal books, and this is one of the best I've come across. Amazingly well-developed and imagined, both character and story-wise, intelligent, and witty."
-Teens Read Too March 2007


"Fantasy fans who favor rich settings are likely to find [the main character's] quest through dangerous landscapes...compelling."
-Bulletin of the Center for Children's Books


"Johansen has created a world and a cast of characters that I thoroughly enjoyed journeying with" -Resource Links


"...a fast-paced adventure story...the main characters are multi-dimensional...should appeal to readers of either gender. Highly recommended." - CM Magazine