K.V. Johansen is the author of a number of fantasy and science fiction novels for children and teens, as well as novels and short story collections for adults and the "Pippin and Mabel" picture books. Her latest book, Blackdog, a novel for adults published by Pyr (an imprint of Prometheus Books headed by Hugo Award-winner Lou Anders) was shortlisted for the 2012 Sunburst Award.
Torrie and the Pirate-Queen received the Canadian Authors' Association 2006 Lilla Stirling Award and was a nominated title for both the 2006 Silver Birch Award and the 2006 Diamond Willow Award. Torrie and the Firebird was selected by the Ontario Library Association as one of the Top Ten Children's Books of 2006. Torrie and the Snake-Prince was chosen by IBBY (the International Board on Books for Young People) for their 2011 selection of Outstanding Books for Young People with Disabilities. It also received an OLA "Best Bets" for children list honourable mention, 2007, and was a nominated title for the 2008 Silver Birch Award; it was also on the list for the 2009 Hackmatack Award. Nightwalker: The Warlocks of Talverdin Book One, was selected by VOYA for their annual list of the year's Best Science Fiction, Fantasy, and Horror in April 2007. It was on the OLA "Best Bets" for children top ten list, 2007, and was a nominated title for the 2008 Saskatchewan Children's Choice Snow Willow Award. Nightwalker received the 2008 Ann Connor Brimer Award for an "outstanding contribution to children's literature in Atlantic Canada". The Cassandra Virus was shortlisted for the Canadian Association of Children's Librarians 2007 Book of the Year for Children Award. Its sequel, The Black Box, received an Honourable Mention on the Ontario Library Association's Best Bets for Children 2011 list, and was on Resource Links magazine's 2011 Year's Best list. Johansen received the New Brunswick Lieutenant-Governor's Early Childhood Literacy Award (now known as the Dr. Marilyn Trenholme Counsell Early Childhood Literacy Awards) in 2000.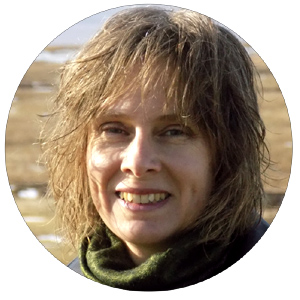 Photo © K.V. Johansen
Johansen
was born in
Kingston
, Ontario, Canada, and grew up in "
the old Sproule house
" (built 1867) in the nearby village of Westbrook, now engulfed by urban sprawl. She studied English and History at
Mount Allison University
, where she hosted a radio show, "Eclectic Chaos," on the campus station,
CHMA
. She did a Master's Degree in Medieval Studies at the
Centre for Medieval Studies
at the
University of Toronto
. At
McMaster University
in Hamilton she did a second M.A., this time in English, writing a thesis on Layamon's
Brut
. She now lives in Sackville, N.B.
She is a member of
The Writers' Union of Canada
,
The Writers' Federation of Nova Scotia
,
The Tolkien Society
,
The Science Fiction and Fantasy Writers of America
, the
Early English Text Society
and
SF Canada
.
A video interview with Johansen can be watched online here.