K.V. Johansen has done many school readings and writing workshops for children through the "Writers in the Schools Programme" as well as readings in libraries and other venues, and has read at the Northrop Frye Festival, TD Canadian Children's Book Week, the Reading Series at St. Jerome's University, Word on the Street, the InConsequential Speculative Fiction Convention, Animaritime, and the Eastern Horizon's Children's Literature Conference, among other events. She has read as far west as Thunder Bay and as far east as Austria and Macedonia.
She has taken part for a number of years in Writers in Electronic Residence (WIER), working with classrooms across the country. Other workshops have included programmes for Multicultural Arts for Schools and Communities in Ottawa, and the Professional Writers Association of Canada.

What is WIER? It's a chance for students to work on their writing skills with authors who have published in a variety of different fields: fiction, poetry, non-fiction, and drama. It's an opportunity to become part of a community of student writers that stretches from coast to coast to coast, without ever leaving the classroom. It's writing and revising, learning to read critically and criticize constructively and to have fun while discovering the power of making words say what you mean. If you're a teacher who'd like to get your class involved in WIER, check out their website to find out how to take part in the programme.
Readings can be tailored to suit audiences ranging in age from children to adults. Workshops can be arranged for children from Grade Three/Four up. Adult workshops on writing can also be arranged. Johansen is also available to speak on the history of children's fantasy literature, a subject on which she has written two books developed during her research for the 2001 Eileen Wallace Research Fellowship in Children's Literature at the University of New Brunswick and the 2004 Frances E. Russell Award for research in Children's Literature.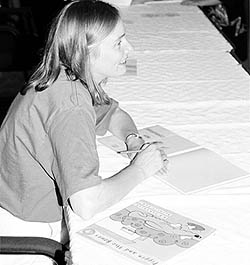 To arrange a reading or workshop, the author can be contacted directly via this link.
Nova Scotia schools may arrange school visits through the Writers in the School programme by contacting the Writers' Federation of Nova Scotia