The Shadow Road
Book Four of
The Warlocks of Talverdin Series
by K.V. Johansen
ISBN: 9781554691654
Published by Orca Book Publishers
$9.95 / pages / April 2010

Selected for the Pennsylvania School Library Association's Top 40 List

I surfaced struggling from a well of dreams in which I had floated for time out of mind, drowning, with nightmare creatures surrounding me, pawing me, claws and slimy frog-fingers on my skin. In the nightmares, the monsters were my own family, their faces horribly distorted by expressions of hatred and hunger.

Waking did not end the nightmare. The darkness was nearly absolute. Only the faintest pattern of light floated like stars above my eyes. Fireflies? No. My head pounded, and a foul stench in the air made my heart race. Not fireflies. A ceiling of wood pressed close above my nose, light seeping through a pattern of tiny holes.

Panic made me try to sit up. I discovered I was too weak to do so, just as well, or I would probably have bashed my head and knocked myself out again. But I was not dreaming. I was...I was...

In a coffin. I smelt of death, of rotting flesh.

Betrayed by a member of his own family, abducted, poisoned, and forced to recreate an ancient spell that might -- if it doesn't kill him -- open the lost Shadow Road, Nethin, son of a Nightwalker lord and a human witch, is thrown into a struggle for survival in a dying land. Alabeth, an orphan who survived the slaughter of the last warlocks by their own kinsfolk, is willing to trust him, but her people have rejected her and all mages. Capture means execution for both, but an even deadlier foe plans vengeance against Nethin. Not only Alabeth's life and his own, but the lives of every Nightwalker of the Homeland rest on Nethin's ability to survive death itself and defeat a prince of the Nightwalker-hating Yehillon cult on a suicide mission....
~Reviews~
"The adventures that ensue are complex and carefully constructed; Johansen is adept at presenting intricate political and social intrigue, supported by strong characterization... She has created a fascinating, original fantasy world, one which readers will want to enter in to dwell. As with Middle Earth, we imagine the shadowy spaces outside of the narrative, peopled by characters we have yet to meet, partaking of incidents that have yet to happen, and we fervently hope that K.V. Johansen will continue to tell their tales for years to come.
- Karyn Huenemann, Resource Links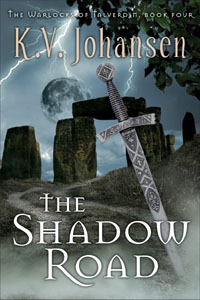 Order The Shadow Road Online

or at your local book shop
~Reviews~
"Followers of
The Warlocks of Talverdin
will relish this fourth book, while those new to the series can jump right in with very little confusion and become fans themselves. Readers will be hooked from the first few pages ..."
Patricia Fischer, Pennsylvania School Library Association
"The Shadow Road, the fourth book of the "Warlocks of Talverdin," is the best so far. Fast paced and dramatic, Nethin's adventure took swift hold of my imagination and provided a splendid imaginary escape to another world.
In this 'high fantasy' series, Johansen has managed to create a dark and serious fantasy revolving around a race of warlocks, witches and humans living together on an island setting in an undetermined time. Each story in the series is consistent with the others and brings alive more of the history of its people.

The quality of the writing is also consistent with the other novels in the series, and the use of the High Court language spoken principally by Alabeth, as last of the Kiron, is believable and easy to follow." - Janet M. Johnson, CM Magazine