The Cassandra Virus
A science fiction novel for ages 9-14
by K.V. Johansen
ISBN 1551434970
April 2006 - 176p - CA$8.95
Orca Book Publishers
A 2007 Our Choice Selection
by the Canadian Children's Book Centre
Selected by
Canadian Family
magazine as one of their
40 Great Summer Reads
.
Chosen by
Today's Parent
magazine in their selection of
Great Canadian Fiction
(November 2006 issue, p.36)
The Cassandra Virus

The only thing worse than a bored genius is
a bored genius with a supercomputer...
It's the near future. Computers are faster, cars run on fuel cells, and there's not much to do in the small town of Easter River if you're thirteen and not into team sports. Helen Chan-Fisher is happy enough trying singlehandedly to save the world's remaining amphibians from chytridiomycosis, but her friend Jordan O'Blenis is at a loose end. He may be a genius, but it seems like no matter what he tries to do, his robot-building older sister Cassie did it first. Then he has his great idea, an idea so great even Cassie hasn't done it. He'll write a programme for a virtual supercomputer, one that can live on the Web, and grow and spread and learn ....

Jordan calls it Cassandra.
Helen calls it a virus.

Cassandra calls home...and when agents of the government security agency Bureau 6 try to seize her for their own purposes, it's up to Jordan and Helen to keep Cassandra from falling into the wrong hands.

The only thing worse than
a bored genius is
a bored supercomputer....
~~ Review ~~

"Appealing to tech-savvy teens,
The Cassandra Virus
is a quick read that includes predictions for the future. Jordan and Helen symbolize computer programmers and environmentalists of the future, and point out that we must pay attention to the integrity of our environment and the safety of cyberspace. Recommended for junior high school students. The contents are of particular interest to young adolescents and their teachers."
-
Kliatt Magazine July 2006 (Holley Wiseman, MLIS
)
~~~~
"Computer junkies will enjoy the technology aspects as well as the characters, whose humour and normal kid behaviour will make readers believe this is all within the realm of possibility."
School Library Journal
~~Reviews~~

"The writing here is energetic and direct, and the computer trickery and other adventures are fresh and urgent; there's even some moral complexity to chew over."

Georgia Straight Nov.30 2006

~~~~

"Endearing characters, including Cassandra, add depth to this fast-paced, futuristic, middle-school thriller..."
Voya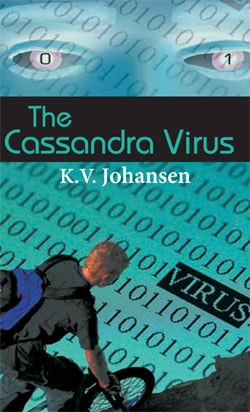 Buy The Cassandra Virus Online

or at your local book shop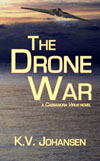 Also available!
The Drone War
, the next book in
The Cassandra Virus
series...