Torrie and the Pirate-Queen
A Torrie Quest
by K.V. Johansen
Illustrated by Christine Delezenne
ISBN: 1550379011 (HC)
ISBN: 1550379003 (pbk.)
Published March 2005 by Annick Press



Watch a video clip of the author reading from Pirate-Queen
In the days when the granddaughter of Rufik and Cossypha is Queen of Erythroth, Torrie sets out on another adventure, this time at sea. Anna is a young sea-captain on a mission to rescue her father from Nevilla the Pirate-Queen. She has a dozen retired pirates to crew her ship, the Shrike, and a secret weapon: Torrie, oldest of the Old Things of the Wild Forest. Pirates, magical treasure, a sea-serpent, a marooned prince and a kingdom under a terrible curse...
The Danish translation of Torrie and the Pirate-Queen, entitled Sørøverdronningen, is available from Forlaget Thorup in Denmark
(ISBN: 87-7889-279-1).

Reviews
"K.V. Johansen enthrals readers and has them on the edge of their seats... Johansen has brought the characters to life and captivates readers by taking them on a journey they will never forget. This magical adventure should be added to all schools and libraries." - Georgie Perigny, Canadian Review of Materials

"K.V. Johansen is really on to something with the continuing adventures of Torrie ....This is a great series for 8-to-12-year-olds. Don't miss it."
- John Burns, Georgia Straight

"Quirky and original!"
-- O.R. Melling, author of The Chronicles of Faerie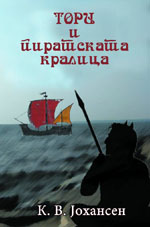 Torrie and the Pirate-Queen was translated into Macedonian by Marija Todorova and published by Vermilion Books, April 2013 as Тори и пиратската кралица.


Other Torrie Quests
Torrie and the Dragonslayers
Torrie and the Firebird
Torrie and the Snake-Prince
Click here for Mister Flytch's
Fish Chowder recipe!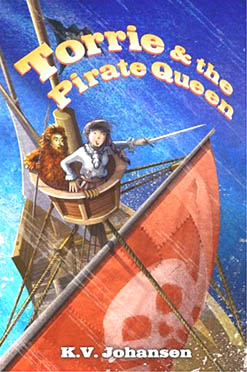 Order On-line
Country

Paperback

Cloth Bound

Canada

Amazon

Amazon

Canada

Chapters

Chapters

Canada

McNally Robinson

UK

Amazon

Amazon

USA

Amazon

Amazon

USA

Powell's

Powell's

USA

Indie Bound

Indie Bound

USA

Barnes&Noble

Barnes&Noble

Denmark
(in Danish)

Saxo.com

Australia

Angus&Robertson

New Zealand

Fishpond




South Africa

Exclusive Books

South Africa

Kalahari

India

First & Second

First & Second

Japan

Amazon

Amazon

South Korea

Tmecca

Tmecca

Hong Kong

Paddyfield

Paddyfield

Singapore

acma books




Brunei

acma books




Malaysia

acma books




Indonesia

acma books




Thailand

acma books




France

Amazon

Amazon

France

Chapitre

Chapitre

Sweden

Bokus

Bokus

Norway

Bokklubben




Finland

Book Plus

Switzerland

Bol.ch

Bol.ch

Germany

Amazon

Amazon

Germany

Buch.de

Buch.de

Germany

Bol.de

Bol.de

Czech Rep.

Musicabona

Musicabona

Italy

Libreria Universitaria