Torrie and the Snake-Prince
A Torrie Quest by K.V. Johansen
Illustrated by Christine Delezenne
ISBN: 1554510708 (HC)
ISBN: 1554510694 (pbk.)
Published by Annick Press February 2007


"What you want is the story about my friend Wren, who went off to rescue a prince who'd been turned into a snake. And how she and I got mixed up with a mysterious,

not-quite-human wandering minstrel named Rookfeather. It all began one spring long ago, when I went up to High Morroway in the mountains, looking for an adventure ...."
When Wren, a lame pedlar-girl, meets Torrie, oldest of the Old Things of the Wild Forest, adventure isn't long in following. The mysterious minstrel Rookfeather is looking for a hero to rescue Prince Liasis, who vanished from his bedroom on a spring night. Wren thinks she's just a pedlar, no hero, but Torrie knows better, and together they track a goblin band into the Wild Forest, to the lair of a sorcerer. Prince Liasis, meanwhile, has been having his own difficulties, and not just a steady diet of earthworms. One of his goblin-guards decides he's her new best friend and of course a best friend can't refuse to help her steal back a treasure from the goblin lord -- who isn't a goblin at all. The prince's escape runs smack into Wren's and Torrie's rescue. Goblin hordes are one thing; an angry sorcerer -- and his big sister -- are entirely another. And what's a snake-prince supposed to do with twenty-seven knights who've been turned into toads?
~~ Reviews ~~
Selected as an honourable mention for the OLA Best Bets for Children top ten list.
2008
Silver Birch
Shortlist
2008/2009 Hackmatack Children's Choice Book Award shortlist
/4

"This fantasy novel is another mesmerizing story of trickery and magic that will enchant all readers as they are taken on an escapade involving snakes, toads, goblins and sorcerers. Torrie & the Snake Prince is easy to read but hard to put down." -CM Magazine

Torrie and the Snake-Prince is well-crafted and suspenseful...also lots of fun for readers... -Atlantic Books Today

"Typical of Johansen, the writing fits the world: quest, magic, forests and castles, are all described with rhythm and vocabulary that bring the reader close to this Dark Age fantastical environment. ... Fantasy readers will find Johansen's world remarkably resilient, fresh, and consistent. If this book could be compared to a wine one might taste hints of Tolkien, C.S. Lewis, and the Brothers Grimm yet not without sensing the distinct flavour of Johansen. ... Highly recommended."
-David Ward, Resource Links



Other Torrie books
Torrie and the Firebird
"Johansen enthrals readers and keeps them entranced as Kokako faces one obstacle after another. The author takes readers on an exciting adventure filled with humour and unexpected turns of events that keep them entertained. This book is a must-read for all fantasy readers..." - Georgie Perigny, Canadian Review of Materials

Torrie and the Pirate-Queen

Starred selection in Our Choice 2006 Guide to Canada's Best Children's Books, Canadian Children's Book Centre

Recipient of the Canadian Authors' Association 2006 Lilla Stirling Award

"Quirky and original!"
-- O.R. Melling, author of The Chronicles of Faerie

Torrie and the Dragonslayers
"Another excellent installment of the Torrie adventures. Johansen has a magical gift for creating delightful tales of ancient lore... Johansen's novels are fast-paced, high action and adventure stories"
-- Sharon Armstrong, Resource Links


de libro tuo novo et optimo ... gratulamur m.c. & s.c.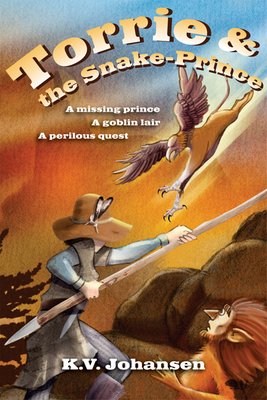 Torrie & the Snake-Prince was selected by IBBY (the International Board on Books for Young People) for their 2011 selection of Outstanding Books for Young People with Disabilities.

Try out Wren's bannock recipe!


Order Snake-Prince Online

Country

Paperback

Cloth Bound

Canada

Amazon

Canada

Chapters




Canada

McNally Robinson

UK

Amazon

Amazon

USA

Amazon

Amazon

USA

Powell's

Powell's

USA




Indie Bound

USA




Barnes&Noble

Australia

Less10 Books

New Zealand

Fishpond




South Africa

Kalahari

Kalahari

India

First & Second

First & Second

Japan

Amazon

Amazon

South Korea

Tmecca

Tmecca

Taiwan

Kingstone

Kingstone

Hong Kong

Paddyfield

Paddyfield

Singapore

acma books




Brunei

acma books




Malaysia

acma books




Indonesia

acma books




Thailand

acma books




France

Amazon

Amazon

France

Chapitre

Chapitre

Finland

Book Plus

Switzerland

Bol.ch

Bol.ch

Germany

Amazon

Amazon

Germany

Buch.de

Buch.de

Germany

Bol.de

Bol.de



Published in Macedonian as:


Тори и принцот-змија
К.В. Јохансен
translated by Marija Todorova
and published by Vermilion Books