The Eighties: Diana Wynne Jones, Brian Jacques, John Bellairs, and Robin McKinley

Diana Wynne Jones -- not an complete list!

Whether a Jones book should be classified as children's or YA depends on the

particular young person reading it. Some children may find her children's books demanding, more complicated in plot, world, and character psychology than they are accustomed too, and prefer to come back to them later, reading them at twelve or fourteen rather than eight or ten, once they have a broader literary or life experience. It's all a matter of individual reading level and taste at a given point in time. All of her children's books are very satisfyingly multi-layered, never over-simple, making them completely engrossing books for teens and adults as well.
Children's books:
Wilkin's Tooth (1973)
Eight Days of Luke (1975)
The Ogre Downstairs (1974)
The Homeward Bounders (1981)
Archer's Goon (1984)
A Tale of Time City (1987)
'Chronicles of Chrestomanci':
Charmed Life (1977; Guardian Award)
The Magicians of Caprona (1980)
Witch Week (1982)
The Lives of Christopher Chant (1988)
Mixed Magics (2000; short story collection)
YA books: -- Jump back to top --
Dogsbody (1975)
Power of Three (1976)
Time of the Ghost (1981)
Fire and Hemlock (1985)
Hexwood (1993)
Dark Lord of Derkholm (1998; an adult book with YA appeal)
Year of the Griffin (2000; sequel to above)
Deep Secret (1997; adult book)
The Merlin Conspiracy (2003)


The 'Moving Castle' books:
Howl's Moving Castle (1986; to be released as an anime movie by the justly-celebrated Ghibli Studios as Hauru no Uguku Shiro in 2004)
[Book & Soundtrack available from Amazon]
Castle in the Air (1990)
'Dalemark Quartet'
Cart and Cwidder (1975)
Drowned Ammet (1977)
The Spellcoats (1979)
The Crown of Dalemark (1993)
Brian Jacques -- Jump back to top --
'Redwall' series:
Redwall (1986)


Mossflower (1988)
Mattimeo (1989)
Mariel of Redwall (1991)
Salamandastron (1992)
Martin the Warrior (1993)
The Bellmaker (1994)
Outcast of Redwall (1995)
The Pearls of Lutra (1996)
The Great Redwall Feast (1996; picture book)
Marlfox (1998)
The Legend of Luke (1999)
Lord Brocktree (2000)
The Taggerung (2001)
A Redwall Winter's Tale (2001; picture book)
Triss (2002)
Loamhedge (2003)
Two YA books about an immortal boy and dog, saved from the Flying Dutchman when it was damned and sent into the world to help people:
Castaways of the Flying Dutchman (2001)
Angel's Command (2003)
John Bellairs -- Jump back to top --
'Anthony Monday' books:


The Treasure of Alpheus Winterborn (1978)
The Dark Secret of Weatherend (1984)
The Lamp From the Warlock's Tomb (1988)
The Mansion in the Mist (1992)

'Johnny Dixon' books:
The Curse of the Blue Figurine (1983)
The Mummy, the Will, and the Crypt (1983)
The Spell of the Sorcerer's Skull (1984)
The Revenge of the Wizard's Ghost (1985)
The Eyes of the Killer Robot (1986)
The Trolley to Yesterday (1989)
The Secret of the Underground Room (1990)
The Drum, the Doll, and the Zombie (1994)
The Doom of the Haunted Opera (1995)
'Lewis Barnavelt' books:
The House With a Clock in its Walls (1973)
The Figure in the Shadows (1975)
The Letter, the Witch, and the Ring (1976; the main character is actually Rose Rita)
The Ghost in the Mirror (1993; Rose Rita)
The Vengeance of the Witch-Finder (1993)
The Face in the Frost (1969; a hard-to-find adult fantasy book with great YA appeal to those who like wizards and dark magic triumphed over with wit and whimsy.)
Robin McKinley -- Jump back to top --
'Damar' books: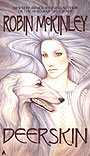 The Blue Sword (1982; Newbery Honor)
The Hero and the Crown (1984; Newbery Medal)

The Outlaws of Sherwood (1988)

Novels based on fairy-tales:
Beauty (1978)
Deerskin (1993)
Rose Daughter (1997)
Spindle's End (2000)

Short story collections:
The Door in the Hedge (1981)
A Knot in the Grain (1995)
Water: Tales of Elemental Spirits (2002; co-written with her husband, Peter Dickinson)


©2003 K.V. Johansen